Frequently Asked Questions
What cameras does the TITAN 3 support?
---
The TITAN 3 Basic supports these cameras.
* Please note that with Sony Cameras, you will need to install an additional WiFi device.
Do note that Skyshot have deployed more than 100 Canon DSLRs for our time-lapse projects over the last 7 years. We are primarily Canon camera users. We have done limited testing with several Sony & Nikon cameras on our system.
---
What types of lenses can be used?
---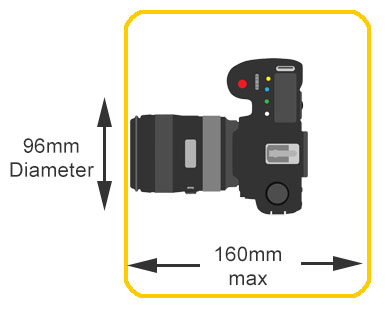 The TITAN 3 (housing) can only fit lenses with diameters of 96mm or smaller. The length of the camera & attached lens should not exceed 160mm.
*Do note that some fisheye lens have a super field of view and it may not fit the lens opening entirely.
---
What are the camera settings for shooting long-term time-lapse?
---
There are no pre-determined camera settings for TITAN 3 to function. However, here is our recommendation when we produce a time-lapse of a building construction.
- Aperture priority
- 15 minutes interval
- Lens on manual focus
- Auto white balance
- Center - Weight metering
---
How long can the solar panels last?
---
The TITAN 3 can to run 24/7 on solar power without AC, as long as the solar panel is able to recharge for at least 4 to 6 hours under uninterrupted full sunlight. The internal power can last up to an estimated 3 to 4 days while shooting at 15-minute intervals with a 3 hourly sync via Wi-Fi or 3G/4G network.
*Please note that continuous overcast sky or rainy weather for more than 3 to 4 days at a stretch could affect the recharging. Charging the systems using AC power is advised.
---
What is the maximum shooting and upload frequency?
---
The Titan2 software can be set from "1 photo per 3 seconds" to "1 photo per hour" depending on your time-lapse requirements. You can also determine the time of the day to start and end recording. However, the uploading speed is determined by your WiFi / 4G bandwidth and file size. So a short shooting interval (like 1 photo / min), the photo may not be able to upload in time before the next photo is taken. For this reason, our long-term time-lapse filming interval is usually 15 mins.
---
Can I shoot RAW?
---
Yes, you can shoot and sync in RAW and JPEG formats. However, RAW files are huge, so do consider the upload time, storage cost and data charges.
---
What is the weatherproof rating?
---
The TITAN 3 is rated at IP53.
---
Can I increase the data storage space in TITAN 3
---
Yes, you can. There is a USB 3 slot in TITAN 3 micro-processor for external storage options. We recommend using an industrial grade thumbdrive which can withstand harsh weather conditions.
---
Does my Data SIM Card work with the Titan2 Remote?
---
The Titan2 remote system can work with 3G/4G/GSM/HSDPA/GPRS/EDGE/WCDMA and operates at frequencies of 800/850/900/1700/1900/2100 MHz.
If you are not sure about your data plan, please check with your service provider if they support the follow on their network.
---
What happens to the photos if the WiFi or 4G networks is down?
---
The primary storage in the micro-processor is independent of the 3G/4G or WiFi network. The TITAN 3 automatically store the images on the internal storage after every shot.
---
Do I have full remote access to my camera to change or adjust the camera settings?
---
The Digicam software allows the user to remotely adjust all settings on the camera display – including the shooting intervals, exposure, shutter speed, F-stop, etc. However, the shooting mode and the manual lens focus should be fixed when you set up the time-lapse camera.
---
Can the camera Live View be turned on 24/7
---
You can activate the remote "Live View" periodically to check on the system. But the Titan2 system is a DSLR based system. It is not build to work like a CCTV system which allows users to stream video for long periods of time.
---
Can I use a fisheye lens?
---
There are many fisheye lenses that will fit the TITAN 3 internal dimensions. However, some fisheye lens have a fix petal hood design that make it impossible for the lens to get close enough to the TITAN 3 glass. The edges of the TITAN 3 glass frame may be seen in camera image as a result. Some other fisheye lens will require a round dome to accomodate the wide focal length, but our glass is flat. For these reasons, we don't reccommend using fish-eye lenses.
---
---